From the finest cocoa beans
BLUE BIRD Cocoa is 100% pure cocoa. It is an important ingredient in a variety of sweets and desserts. It enhances the flavour of chocolate based cakes, brownie and muffins.
» Packing size
50 g Carton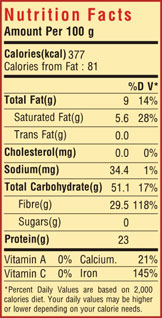 » Basic uses
Blue Bird Cocoa Powder is used in a variety of chocolate dishes, milk shakes, chocolates, cookies, Indian sweets, toppings for ice creams, etc.
Ingredients
50 g Blue Bird Cocoa
1 cup Blue Bird Icing Sugar
1 tin (400 ml) sweetened condensed milk
1 cup walnuts chopped
1 teaspoon of vanilla essence
A pinch of salt
Method
In a heavy saucepan over a very low heat, mix Cocoa and Icing Sugar with sweetened condensed milk and salt. Stir continuously till mixture thickens. Remove mixture from heat. Stir in vanilla essence and chopped nuts. Spread mixture evenly into an aluminium foil-lined square pan (approx 8 inch / 18 cm). Refrigerate to chill (approximately 2 hours). Turn fudge out onto a cutting board and remove the aluminium foil. Cut fudge into squares and serve.